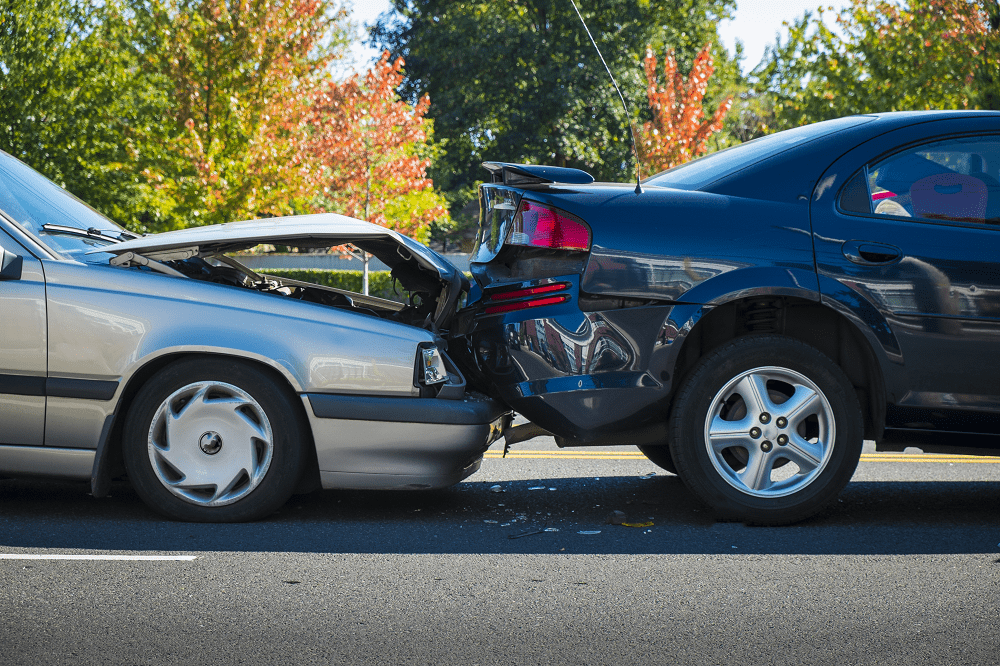 Who is at Fault for a Sideswipe Car Accident?
Sideswipe car accidents typically occur when one driver changes lanes and/or moves in the other vehicle's direction. So, for individuals involved in Mississippi car accidents, the driver who changes lanes and moves in the other vehicle's direction is at fault and is liable for resultant losses. The same is true for Tennessee car accidents.
What is a Sideswipe Car Accident?
Sideswipe car accidents occur between vehicles moving in the same direction and traveling in parallel lanes. There may be a scenario in which a sideswipe car accident can be caused by oncoming accidents, after near-miss, head on collisions.
Typical Locations of Sideswipe Car Accidents
While there might be scenarios where sideswipe car accidents occur between vehicles moving in the same direction, they typically occur at intersections. Most often, the driver who did not yield the right-of-way is at fault in a sideswipe collision.

For vehicles traveling in the same direction, sideswipe collisions often occur when the left side impacts the right side in a car accident. In such a scenario, the driver, with a damaged left side, who left his or her lane and impacted the right side of the vehicle traveling in the parallel lane, is at fault.
Common Causes of Sideswipe Car Accidents
Most common causes of sideswipe car accidents are distracted drivers. But sideswipe accidents may also be caused by:
Failure of drivers to check blind spots before changing lanes.

Distracted drivers drifting into other lanes while distracted by electronic devices, radios, or others in the vehicle.

Drivers under the influence of intoxicating liquor or drugs weaving in and out of lanes.

Drivers in road rage, racing, or engaging in reckless driving.

Failure of one driver to signal a lane change before moving into another lane.

One driver merging into the lane of another driver without checking the lane carefully.

Two drivers changing into the same lane.

Driver Hydroplaning on wet or icy roads
Bodily Injuries in Sideswipe Crashes
Automobile manufacturers typically design cars to assure the greatest protection against head on and rear end crashes. This is why the front and back of vehicles have bumpers to help absorb the impact or force of crash.

Because the sides of a vehicle don't offer the same protection, there is little space between the side of a car and the driver or passenger inside the vehicle. Consequently, drivers or passengers often experience a secondary crash in a sideswipe accident. Why? Because the vehicles could collide with another vehicle, guardrail, concrete barrier, or road.

Because of lack of adequate protection in a sideswipe crash, drivers and passengers suffer serious internal injuries, broken arms, knees, legs, injuries to the back, neck, or head. In a sideswipe car accident, these types of injuries may not readily apparent, and this is why medical evaluation is critical.

Accident victims must not take sideswipe car accidents for granted. If you have been injured in a sideswipe car accident, you must go to the nearest emergency room of a hospital or get checked out by a medical professional immediately.
What to Do after a Sideswipe Car Accident
Victims of sideswipe crashes must be prepared for insurance companies to minimize their claims or consider their claims minor. To protect your personal injury claim, take the following steps:
Document your accident by taking pictures of your damaged vehicle including pictures of your tag number and vehicle(s) that caused the collision. Take close pictures of the side that was damaged and the other vehicle.

Obtain names, telephone numbers, email addresses, home addresses and other relevant contact information of eyewitnesses.

Call the Police immediately and do not listen to the other driver telling you that it is a minor accident, and you should only exchange insurance information.  The Police Accident report is essential to establish your claim and damages.

Get medical help immediately and always accept an offer from the Police to transport you by ambulance to the nearest emergency room of the nearest hospital, even if you don't have medical insurance. This shows the severity of your injuries. If you are involved in a sideswipe car accident, most hospitals will treat you with or without medical insurance.

Remember to tell the doctor and everyone you interact with at the hospital that you were involved in a sideswipe car crash.

Seek urgent medical attention for evaluation.  This is essential for your personal injury claim. Remember that some victims of minor sideswipe car accidents have died because of latent injuries that were not treated.  

Contact a car accident attorney immediately.
At Salu & Salu Law Firm, you can contact us for a free consultation and evaluation of your case immediately by calling (662) 342-7007 or using the contact form.
Damages You May Recover in a Sideswipe Car Accident
If you are involved in a sideswipe car accident that was not your fault, you may recover the following damages:
Recovery of all your medical expenses that are related to your injuries.
Lost wages that are related to your accident.
Lost future wages if your injuries are permanent.
Pain and suffering associated with your injuries.
Damage to your vehicle as well as any personal property that might have been inside the vehicle.
Damages for Sideswipe Car Accidents Caused by Commercial Trucks
If your sideswipe crash was caused by a commercial truck, freight liner, 18-wheeler, tractor-trailer, or truck with a faulty brake, you may be able to recover punitive damages, provided the failed brakes caused the crash.
You may also be able to recover punitive damages for a crash caused by a drunk driver.
Call a Mississippi Sideswipe Car Accident Attorney
Whenever you are considering a car accident claim, your first step is to obtain a copy of the Police Accident report. In addition, you will need to obtain your complete medical records from all treating physicians or medical providers who provided medical treatment after your car accident.
At Salu & Salu Law Firm, PLLC, we offer free evaluation of your Car Accident case. We will let you know what your injury claim is worth.
Call (662) 342-7007 or contact us immediately to schedule an appointment with one of our Southaven Mississippi Car Accident lawyers.
Our attorneys are licensed in Mississippi and Tennessee.